Mesa Falls
Beginning in gently rolling farmlands, dipping into a tumultuous river confluence, and traveling over the rim of the nation's largest volcanic caldera, Mesa Falls Scenic Byway takes you through some of southeastern Idaho's most compelling scenery. In addition to enjoying breathtaking vistas along the route, devotees of intermountain recreation find countless activities to indulge their passions on the route's 27 miles. Originally a popular path to Yellowstone National Park, the byway offers plenty of reasons to justify a trip in itself.
Yellowstone National Park
Established in 1872, Yellowstone National Park is America's first national park. Located in Wyoming, Montana and Idaho, it is home to a large variety of wildlife including grizzly bears, wolves, bison, and elk. Preserved within Yellowstone National Park are Old Faithful and a collection of the world's most extraordinary geysers and hot springs, and the Grand Canyon of the Yellowstone.
Big Springs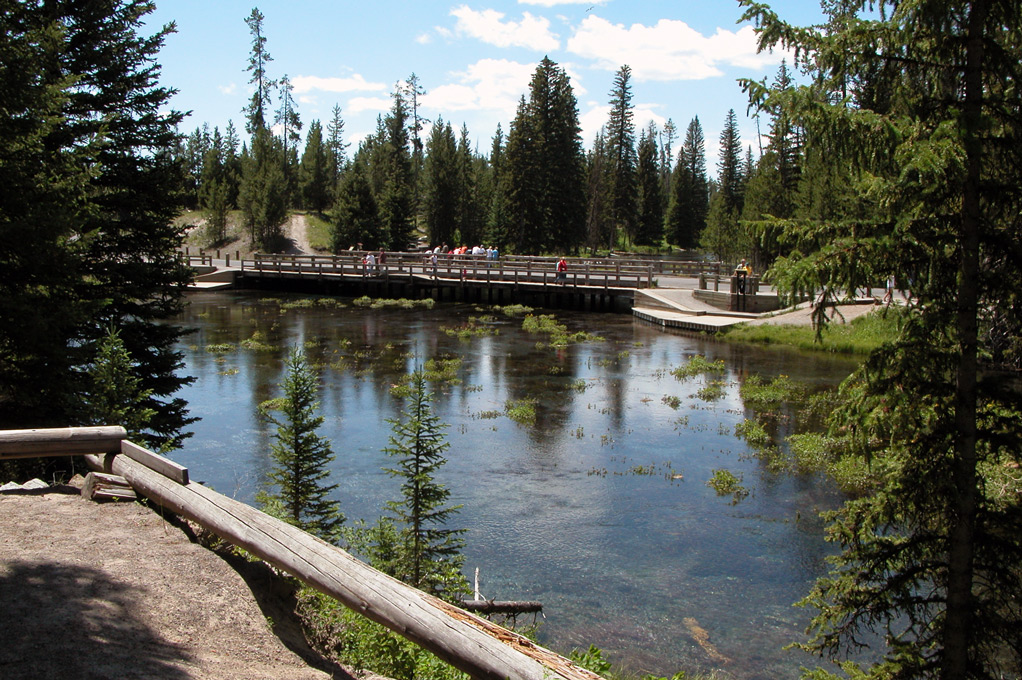 Big Springs is one of the headwaters of the Snake River. Located in Island Park, Idaho, this large springs gushes forth large volumes of crystal clear water. Big Springs is known for two things. First, the large trout that are visible from the bridge. Visitors love to feed the fish. Second, for John Sack Cabin.
John Sack Cabin
John Sack Cabin is located at Big Springs, five miles east of Mack's Inn on Highway 20 in Island Park, Idaho. The cabin can be reached via a short, paved walking path starting in the campground at Big Springs. The cabin's unique location, construction, and furnishings provide for an interesting visit.
Cave Falls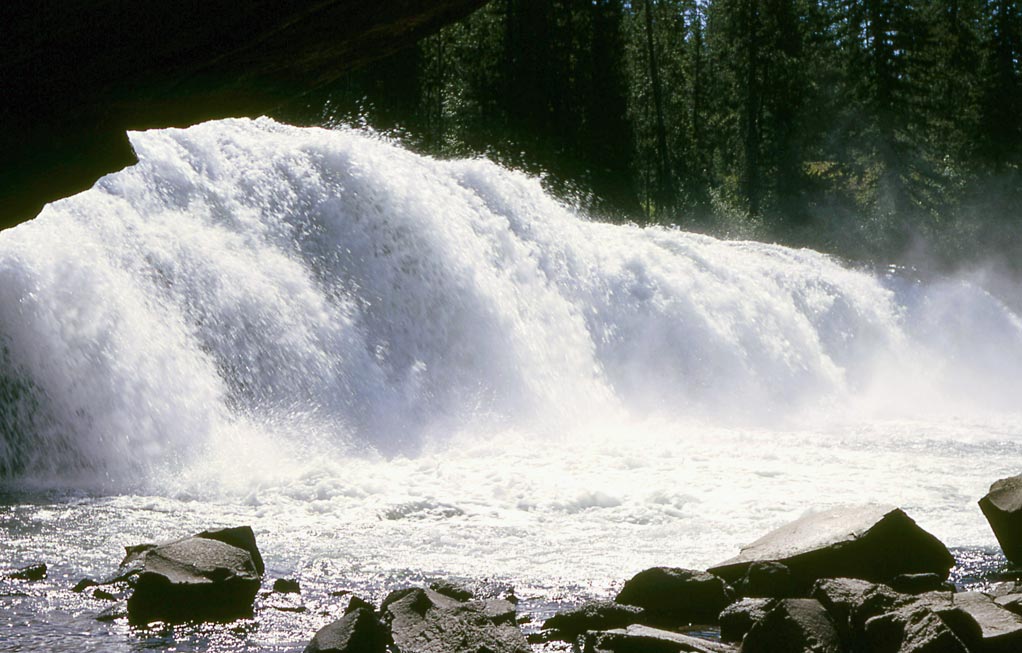 From Ashton, ID, take State Rt. 47 east 5.3 miles to Yellowstone National Park/Cave Falls sign. Turn right at sign and go 18.3 miles to campground sign. Turn right at sign into campground.
NOTE: After 5.9 miles, the access road enters Targhee National Forest and becomes Forest Rt. 582 with gravel surface. After 16.7 miles, the road becomes paved again upon entering Wyoming. Overall, access to the campground is on RV friendly roads.
Earthquake Lake "Quake Lake"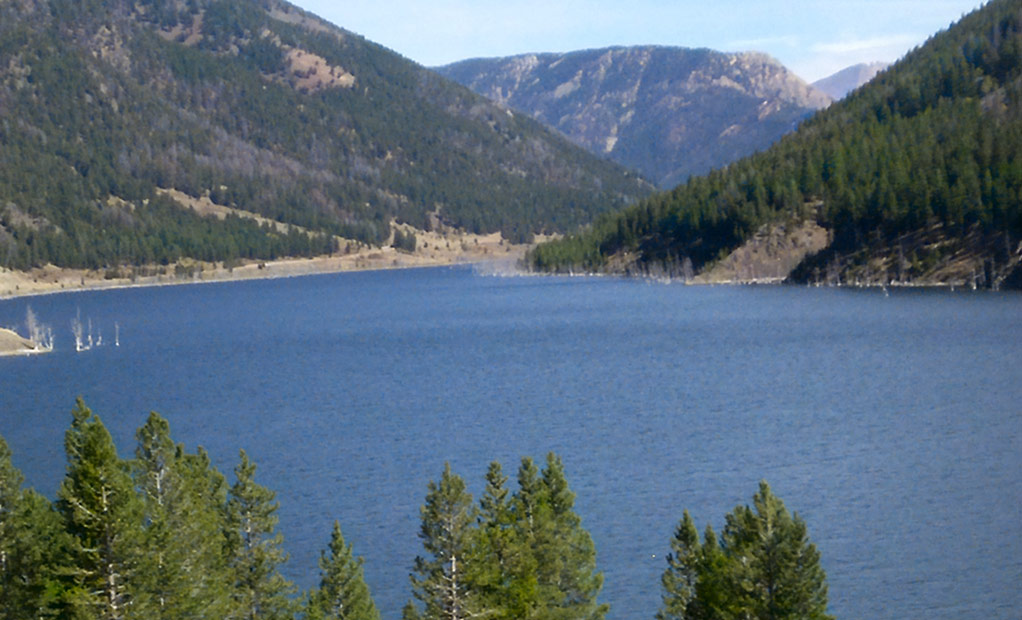 On August 17, 1959 at 11:37pm several faults in the Madison River Area moved at the same time causing an earth quake that triggered a massive landslide. The slide moved at 100 miles per hour and happened in less than one minute. Over 80 million tons of rock crashed into the narrow canyon, burying and open meadow where some campers had stopped for the night. The landslide completely blocked the Madison River and caused it to form Earthquake Lake.
River Rafting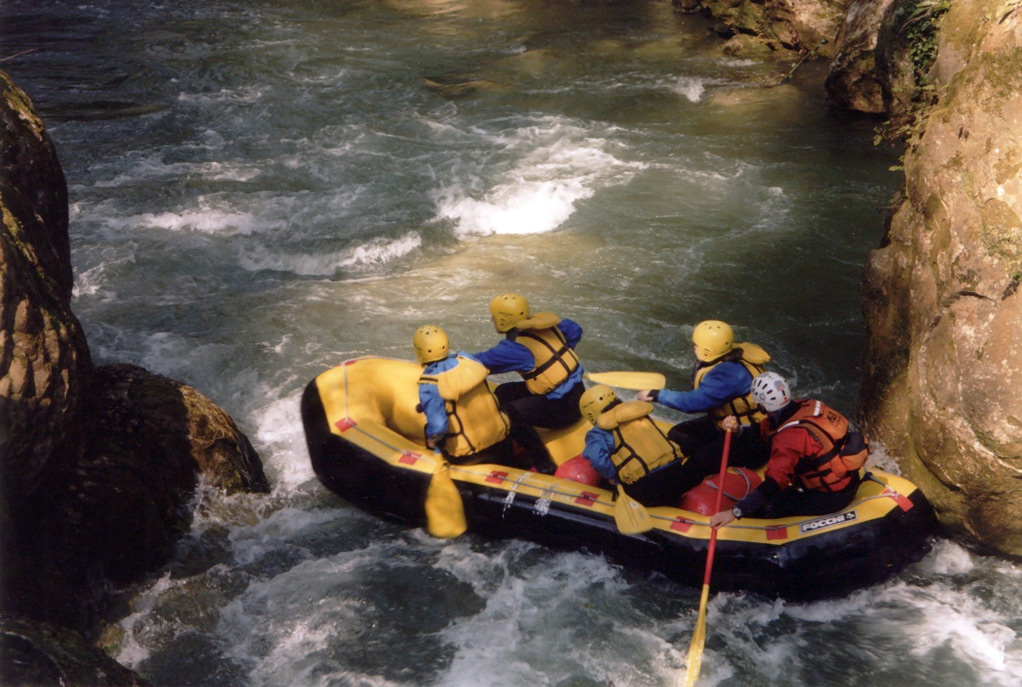 Daily whitewater rafting adventures or scenic floats. The closest rafting to West Yellowstone and Old Faithful, we are located perfectly for those visiting Yellowstone National Park, Big Sky and Bozeman, Montana. Come experience the best!
Horseback Riding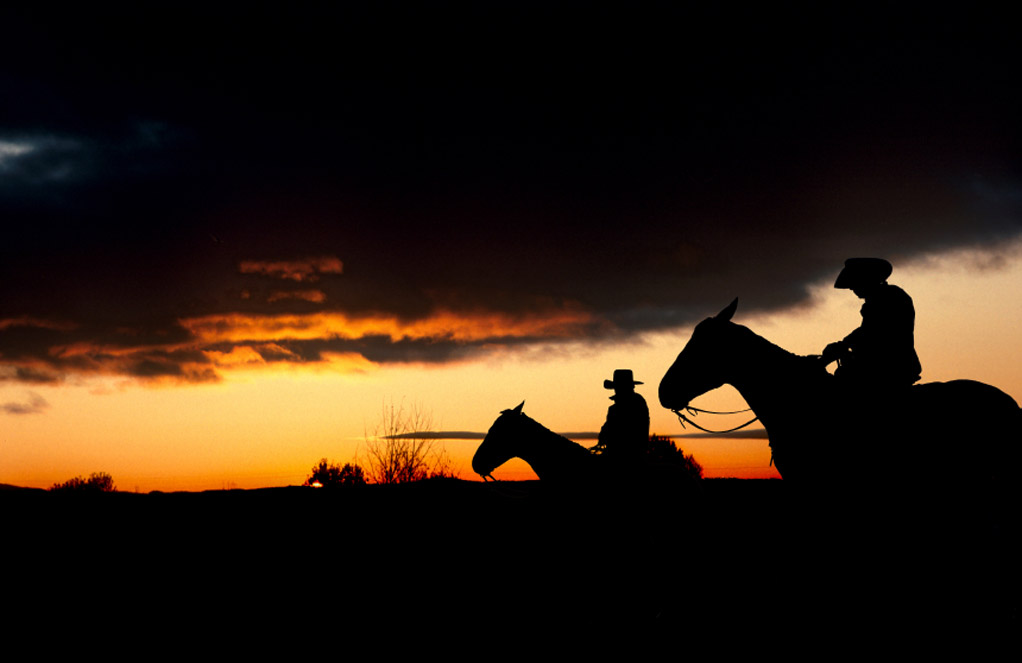 These trips are the most beautiful rides in the world! The trails are steep, but not dangerous. We ride up onto the high mountain ridges and down into the deep ravines. We usually see wildlife and even in late summer there are still wild-flowers blooming up that high! These rides are fantastic! We conduct our rides to satisfy the desires of our guests which include things like rate of travel. You're in control, you set the pace. Bring your camera!


Yellowstone IMAX Theater
Located at the west entrance of the Yellowstone National Park, the Yellowstone Imax Theatre is a "must see" on your travel itinerary.
Far more than just a theatre, the Yellowstone IMAX Theatre offers a rare educational opportunity through the stunning IMAX film "Yellowstone" as well as displays located in the lobby. Visitors can see the true Yellowstone as it is today and as it was a hundred and 100,000 years ago.
Golf & Tennis
The Island Park Village Resort Clubhouse offers a variety of activities for all ages. Stop by and enjoy the swimming pool, hot tubs, sauna, racquetball court, exercise room, TV/game room and table tennis.
Outdoor amenities consist of the tennis courts, horse shoe pits and the pavilion and full golf amenities! Our beautiful 9-hole golf course is open to the public. Tee times are available 3 days in advance.
Enchanted Forest Gift Baskets
We specialize in personalized gift baskets for all occasions! Baskets are made especially for you the day you arrive to guarantee the best in quality and freshness! Here at Enchanted Forest Gift Baskets we specialize in happy smiles and yummy goodies!
Mack's Inn Playhouse
Located in the heart of Island Park, the theatre at Mack's Inn has become a family tradition for many. Formerly Mack's Inn Dinner Theatre, the Mack's Inn Playhouse has launched into a new direction offering fresh family musical parodies.
Playmill Theater
The Playmill Theatre is located in beautiful West Yellowstone, MT. 2010 marks 47 years of the finest family entertainment.
Sports Rentals
We have the recreational vehicle for you! No matter if you want to ride the trails on an ATV, snowmobile in the winter or cruise the water in the summer we have a machine for you.
For rental rates and detailed information please Click Here >>>
Fly Fishing
The Henry's Fork of the Snake River, named after Andrew Henry known for discovering and exploring the area in the early 1800s, is arguably one of the finest trout streams in the lower forty-eight states.
Camping
There are many beautiful campgrounds around the Island Park area. There is a campground available that will suit your needs.
Grand Targhee Ski Resort
The Grand Targhee Resort is a full-service, self-contained, year-round resort located just a beautiful one-hour drive from Jackson Hole, in the heart of Wyoming's majestic Teton Mountains.
West Yellowstone World Snowmobile Expo
The West Yellowstone EXPO is recognized worldwide as the "Largest Snowmobile Event in the West."Arctic Cat, Polaris, Skidoo and Yamaha will unveil their new 2013 snowmobile lines for the first time to the public at the same location.
Calendar of Events
Island Park Area Chamber of Commerce calendar of events.
Massage Therapy
Pamper yourself with a relaxing massage & while you're at it, align your health with our on site chiropractor.
Yellowstone Grizzly & Wolf Discovery Center
The Grizzly & Wolf Discovery Center's primary mission is to provide visitors to the Yellowstone area an opportunity to observe, learn & appreciate grizzly bears & gray wolves.